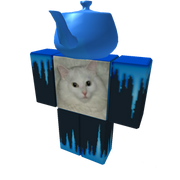 RenderError (or ImACatMeow on GT1) is a
Graphictoria
user.
He first joined Graphictoria in late April 2016.
Nothing much really happened until he joined the Skype group in mid June though, where he got to witness countless flame wars and arguments. He made some friends during his time there (though most of them are no longer on GT.)
When GT1 shut down he still remained in the Skype group.
Eventually GT returned and he got to witness when 2008, 2009 and 2010 were added. Then a flame war happened and he left for a month and changed his name back to his old name he had on his first ROBLOX account. A month later he came back.
Ad blocker interference detected!
Wikia is a free-to-use site that makes money from advertising. We have a modified experience for viewers using ad blockers

Wikia is not accessible if you've made further modifications. Remove the custom ad blocker rule(s) and the page will load as expected.