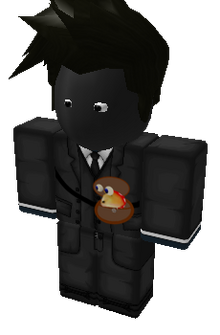 GameArcade is a German-American Graphictoria user. He is most famous for his group, The Game Arcade on ROBLOX. His UserID was 3024. He was known mostly for trolling the forums though and spreading hate about the Advertisements on the site. He and his many alts were banned. However, this is not what he is mostly known for. He is mostly known for being a former Nobelium Administrator. He was the Hat, Gear, and primary Face maker for the site and allegedly he had made over 300 items for the site in a short two months. He had a short break (1/8/2017 - 1/26/2017) due to him being doxxed and the anxiety getting to him. He returned to the site after Graphictoria and Nobelium had made peace. However, he had claimed he had been on hiatus and did not want to release new material, upsetting many users on that site. During this time, Game was harassed by several members of the Tee & Vee's Arcade. One day after releasing a few new hats, more drama had started and he had said very controversial things on the official Nobelium discord. He had officially resigned as the content creator on Nobelium and from Nobelium itself on 2/2/2017 and Raymonf had removed his items from the catalog, causing public outrage. He then continued to lurk the Graphictoria website and Discord, before eventually being banned.
In April of 2017 it was believed that he leaked the database of Nobelium, however these claims proved false yet he still did not return to the Nobelium staff team, or even Nobelium - dedicating his time to The Game Arcade.
Notes to GameArcade from wiki contributors!
Edit
Rest in fame GameArcade, and goodbye forever. -TheLostAdmin
GameArcade created TGA on 6/3/2016 at 2:00 PM EST. He built V1, CloudResponse built V2, and yerIyn built V3. (someone link to their profiles)
GameArcade was doxxed in the past, and this has caused him to go on his first break on Nobelium.
GameArcade has a strong disliking for the user KxraDraws for allegedly manipulating him and lying about him to her fans.
GameArcade is 15 years old.
He created The Game Arcade (TGA), after a conflict between Tee & Vee's group, which still is persistant due to the Tee & Vee's constant slander of The Game Arcade to their employees.